David Kaplan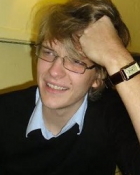 William Kowalsky
David Kaplan, the Hans Reichenbach Professor of Scientific Philosophy, received his B.A. in philosophy and mathematics in 1956 and Ph.D. from UCLA in 1964, and has been a philosophy professor at UCLA since then. His interests are in logic, language, metaphysics, epistemology, Frege, and Russell. William Kowalsky is a seventh-year Ph.D. student. His primary interest is in the philosophy of psychology. He also has broad interests in the philosophy of language and the philosophy of science.
WK: You received a bachelor's in philosophy and mathematics at UCLA, and you then went on to get a Ph.D. in philosophy at UCLA. What got you into philosophy?
DK
: No question about that. It was Don Kalish's Philosophy 31, which is our logic course. I came to UCLA in 1952 on probation because my high school grades weren't good enough. I was rather undisciplined as a young person. And I fear that, to some degree, that trait has stayed with me throughout my life. My main interests coming out of high school were in jazz, playing jazz, I was in a couple of groups, and I was also interested in politics. Although my family wasn't particularly political, I was into politics at a very early age. In my sophomore year of high school, when Nixon first ran for senator, I was going door to door handing out literature in support of his opponent, Helen Gahagan Douglas. I was interested in politics and music. I had no idea what I might be interested in academically. My counselor, Veronica Kalish, who was married to Don Kalish, suggested his logic course. And it was a kind of love at first sight for the subject. Kalish was, I thought, the epitome of cool, smooth, funny, sophisticated charm. He was certainly a very charismatic guy. But it was the subject itself that grabbed me. Some subjects just grip you. In my sophomore year I was hired to grade homework papers for the logic class. It was a thrill to be on the teaching side as an undergraduate reader. I followed Kalish and took all the courses he taught, including his straight philosophy courses. I still liked logic best, but I liked philosophy too.
WK: What was it about logic that gripped you? What about it made it seem like a friend? Was it just that you purely enjoyed it?
DK
: In logic, you're working within a formal system. A proof is a proof. You can think about a statement and have reasons for believing that it holds. But that's not a proof. I think Frege's passion for giving real proofs was as great as his passion for logicism. I felt that passion for proofs in the same way, for the beauty of a system of proof. I still say to my students in philosophy of language classes, that Frege was all wrong about a ton of stuff. But Frege still had the most beautiful system; he had an aesthetic sensibility. His ontology, his metaphysics. I mean, it's gorgeous. It has a kind of coherent beauty. Logic has purity to it. Probably, a big part of what gripped me was that I discovered it was something I could do! I quickly learned the limits of my musical talents when I was invited to jam with classmates who were returning veterans (it was 1952) and already professional musicians. I quickly learned that my musical classmates had gifts that I don't have and abilities that I couldn't develop if I practiced from morning to night for the rest of my life! But I had enough of a gift to do very elementary logic. And that gripped me.
WK: Why did you decide to go into graduate school in philosophy as opposed to some other career?
DK
: It was inevitable from the time I was a junior that I would go to graduate school. I met my wife, Renée, in a class given by [Hans] Reichenbach in my sophomore year. That also was love at first sight, but she responded scoffingly to my proposals, "I'll marry you if you ever graduate." She didn't think I was ever going to get it together and graduate. But I did, although it took a long time. I didn't apply to any graduate school except here. Renée was already in graduate school here, my parents were here, Renée's two sisters lived here, and her mother lived here. We didn't want to go somewhere else. It felt like a natural thing to do.
WK: Can you tell me a little bit about your time as a graduate student here?
DK
: When you're [a UCLA undergrad] with a gigantic number of others, most of your classes are huge, and you're mostly sitting in the back of the room. Although I did know some of the professors when I was an undergraduate, it was nothing like graduate school. I would say I loved being an undergraduate, but I
loved
being a graduate student. There was so much to learn, and there were inspiring faculty and fellow graduate students to learn from. It was a banquet! The faculty slowly changed. At first, a lot of faculty from the 1920s and 30s were still here. Then Richard Montague came, and that was a transformative experience. In graduate school, the experience of talking philosophy with Rudolf Carnap, Alonzo Church, and Montague was amazing. I thought being a graduate student was heaven. I had graduated in January '56, and I went right into graduate school. I was married, we soon had a little house in Granada Hills, and in '61 we had a little boy. During this time UCLA had hired Renée, who finished her degree before I did. I thought I would never want this to end. It lasted until '64 when I completed my Ph.D.
WK: Regarding your dissertation committee, your chair at the time was Rudolf Carnap. What was he like?
DK
: When Carnap and [his wife] Ina came to Los Angeles, they moved into a lovely old house in Brentwood. Carnap had designed these collapsible bookcases that needed to be carried up the hill and assembled. I was hired, as an undergraduate, to carry bookshelves up the hill and boxes of books from time to time and to help assemble all the bookcases and get the books put away. There were an unbelievable number of books, as you could imagine. I got to know him in that way. Ina was interested in psychology. Somehow it came up that my wife, Renée was a graduate student of psychology. Ina invited her to come along. They became extremely close. The Carnaps were lovely, warm people. Even though Carnap was very friendly, a fun guy to talk to, in his seminars when people asked a question and he answered it, you always thought, "well of course, he's been asked the same question probably 50 times, and by now, he's completely refined his answers." But after a while you realized that for any question that was asked from any point of view, his answer always came out sounding as if he'd been thinking about that very question for five years and could now lay out exactly how he wanted to answer it. He was just a very brilliant guy—a sort of structured brilliance. Alonzo Church was the same way. When he taught Gödel's Theorem, he would go in and start by writing down the axioms of sentential logic on the board, then he'd write the axioms of quantifier theory, then he'd write the rules down on the board, and so on. Everything started from the beginning, but he'd go all the way. Both Carnap and Church were very deliberate and structured in their teaching and philosophical conversation. But as a person, Carnap was more fun.
WK: So, you get your Ph.D. and you become faculty here…
DK
: As I said, we had a little boy, and our families were here in Los Angeles. I thought maybe I could get a job in nearby Santa Barbara. Then, in '62, I was offered this job here. (In those days, universities were hiring folks before they completed their doctorate.) That was wonderful for us.
WK: You were centrally involved in the Angela Davis affair. Could you tell us about your involvement?
DK
: Angela Davis was a graduate student at UC San Diego, and she was trained in European philosophy. She'd studied in Europe, and she was studying in San Diego with Herbert Marcuse. Nobody knew she was a member of the Communist Party, a very non-hip organization when we hired her. The Regents got wind of her party affiliation through Mrs. Randolph Hearst, a member of the Board, and demanded that she be fired, not for any behavior, but simply for being
a member of the Communist Party. (They had a rule.) I was one of the people that organized the group that went to court, where the Regents' rule was immediately declared an unconstitutional violation of the First Amendment right of association. Things were touch and go for a while because the Regents had ordered Chancellor Charles E. Young to fire her, and it was within the Chancellor's authority to hire or not hire an acting assistant professor. But because everything had been done in an orderly way—a dossier had been presented to him, the dossier was from a respected department, it showed her qualifications, and had been approved in the normal order of things. [The Chancellor] refused to reverse his decision for political reasons. We expected that the Regents might well fire the Chancellor, which was within their authority. The Academic Senate was defending both our Chancellor and the academic freedom of a member of the Communist Party to teach. An interesting thing happened. During the earlier period of the 60s, the more conservative faculty and the more liberal faculty were often in disagreement about campus issues, but in this case all the political people on both sides joined together, and the Academic Senate declared its support for both the Chancellor and for Angela Davis's freedom to teach. Angela had been given the fall term off in order to finish her dissertation. In that quarter though, the Black Student Union at Santa Barbara had asked her to give a talk in support of some young professors who were not given tenure. Angela could never turn down an invitation from a Black undergraduate group. Although she was by nature a polite, quiet intellectual, outside the classroom on the political stump she became a fiery orator. She was almost a different person. In Santa Barbara, she referred to the senior faculty who had voted against tenure as a bunch of senile old men. Following that political speech, the Regents fired her again, this time, they said, because she had violated a canon of academic ethics—one shouldn't insult one's colleagues. My own activities on her behalf and on behalf of academic freedom earned me many enlightening experiences with the media and a temporary delay in the Regents' approving my advancement to full professor. In the end, times changed, and she was rehired by the UC as a Professor at UC Santa Cruz, from which she retired a few years ago as Distinguished Professor Emerita.
WK: In the 1960s and through the '70s, there were all kinds of revolutionary advances in the philosophies of language and also in logic. A lot of that revolutionary work was coming from philosophers at UCLA, including yourself. What was it like to be at UCLA during that time?
DK
: A lot of what was under discussion had to do with intensional logics. We were doing a lot of work on modality. Richard Montague and I were proving theorems about modal logic. Richard was thinking about interpretations in terms of relations between models, and I was proving things, never published, about substitutional interpretations of modality. When an important paper appeared by S. Kripke, I remember Richard speculating whether S. Kripke was a man or a woman, we had never heard of him. Dana Scott, with whom we often interacted, wrote his influential paper, "Advice on Modal Logic." There were lots of philosophical logicians coming and visiting. It was really quite an exciting period. Quine was still the dominant figure. Not so much on the mathematical side of logic, but on the philosophical side. He was still writing papers in opposition to modal logic. Most of them were earlier, but he was still pushing his opposition to quantified modal logic. Tony Martin arrived a bit after that, and Yiannis Moschovakis, a faculty member in our mathematics department, contributed a lot to the discussions. There was a very active Logic Colloquium jointly between mathematics and philosophy. It was thrilling, actually.
WK: You mentioned that it was the purity of logic that attracted you. I don't know how it looked back then, but I tend to look at philosophy of language as not as pure as logic. It's a messier sort of subject.
DK
: Intensional logic is a pure subject, right? Someone might say it's part of mathematics in that sense. The philosophy of language, insofar as it connects with natural language, is not a pure subject, because linguistics is an empirical science. But like all sciences, like physics which is an empirical science par excellence, there are large, theoretical parts of it that are almost purely mathematical. Lots of the problems are mathematical problems. A lot of that is pure. It's logic—modal logics, quantified modal logics. But then there is a question of how should one deal with demonstratives. And is there such as thing as a referential intention? Keith Donnellan's important work, which is metaphysics, philosophy of mind, and philosophy of language, is still pure in the way that philosophy is, but not pure in the way that logic is. My paper "Demonstratives" was a realization of a Russellian approach to intensional logic. At a certain time, I think that Church questioned whether such a theory would be consistent. Bertrand Russell himself worried that there was some sort of contradiction in the theory. So he and Alfred North Whitehead added all this apparatus of ramification because they were worried about self-reference. Church eventually did publish a Russellian theory, and I think he came to the conclusion that there was no contradiction. But I think he always thought that it made no sense philosophically to countenance propositions that had objects in them. When I was president of the American Philosophical Association in 1980, one of the points of my Presidential Address was to try and distinguish between the metaphysical, intensional contexts and the epistemological contexts. I don't know that anyone had ever pursued that particular distinction before. The address never quite got published. I gave it as a talk at a couple of APAs. It was criticized on both occasions. But I still believe in it. I ought to publish it somewhere. One of the most important things in it—maybe the only important thing in it—is the distinction between the psychological attitude verbs along with the kind of non-extensional context they create and the metaphysical, intensional context creators. I think that propositions, in the metaphysical, intensional sense, are not the objects of the propositional attitudes, as Russell called them. In Naming and Necessity, Kripke says that people confuse necessity with a prioricity and with certainty and analyticity, but these are all separate. Now there is a notion of epistemic necessity according to which something is necessary if it follows from what you know, and it's contingent if neither it nor its negation follows from what you know, that is, if both of those are compatible with what you know. But this is not the notion of necessity that most of us are pursuing. Kripke wanted his modality to be a metaphysical necessity of a kind that may hark back to Aristotelian essence. This sort of metaphysical necessity, like logical necessity, is not epistemic. It does not have to do with what somebody knows. There is also temporality, and there are several intensional logics of temporal operations, theories about branching time and non-branching time. Temporality is again, a non-epistemic, metaphysical form of necessity, conducive to treatment in an intensional logic. One can have different metaphysical views about how various metaphysical intensional contexts ought to operate. You can have views about an accessibility relation. You can have views about the structure of such a relation. But such questions raise a wholly different set of problems than the problems that arise concerning thought. But historically, the propositions that were taken as the subject matter of, say, temporal operators were also taken to be the objects of the attitudes; they were taken to be the same propositions and they were taken to be dealt with in the same way.
I THINK THE INCREASING DIVERSITY OF OUR UNDERGRADUATES HAS MADE FOR BETTER UNDERGRADUATES. MORE INTERESTING QUESTIONS GET ASKED IN CLASS. IT HAS JUST IMPROVED THE ACADEMIC QUALITY OF THE PLACE.
– DAVID KAPLAN
WK: You've been, in one capacity or another, around the department since the early 1950's. How would you describe the evolution of the department from then until now?
DK
: When I came into the department in 1952 as an undergraduate, I suppose Hans Reichenbach was the great figure in the department. Don Kalish was young. There were a bunch of senior people—Abraham Kaplan was a fairly well-known person, certainly, a important person. As an undergraduate, I took courses from Kalish, from Bob Yost, who was about Kalish's age, from Montague, when he appeared, from Reichenbach, and from Carnap when he replaced Reichenbach. Herb Morris was a TA when I was an undergraduate. There were many older professors who had been teaching the same way for 30 years. The university was starting to change. Most of the philosophy faculty came from Harvard or Berkeley. The young, interesting faculty came from Berkeley; the senior faculty came from Harvard. When I first came on the faculty, we were a very small department of 12 or 13 members. Then we hired into their first jobs: John Earman, David Lewis, John Perry, Montgomery Furth, and Tyler Burge. Keith Donnellan followed his student Perry. And Alonzo Church replaced Carnap. It was a kind of revolution. The quality of life in the department changed a lot. Nowadays, most of our majors are transfer students from community colleges with dedicated teachers. Their philosophical abilities have gone up and up. I think the increasing diversity of our undergraduates has made for better undergraduates. More interesting questions get asked in class. It has just improved the academic quality of the place. I was a fortunate to be a faculty member during the uproar in the '60s over authority, racism, inequality, and the War. On campus, many of the questions turned on authority. What should the authority of the administration be, of the faculty, of the students? Who should decide? Hanging over all of it was the Vietnam War. We organized a lot of protests, on and off campus. There were sit-ins, and there were teach-ins. I was a main organizer of the teach-ins, in which faculty members with different points of view from different departments gave lectures on relevant subjects within their expertise. There were constant discussions of political strategy. It was fascinating to be a faculty member during all this turmoil. It was a period when all forms of authority were being challenged. It could seem as if everything was up for grabs. It was interesting and challenging to move through waters where the lines of authority were so up in the air. There were some lasting transformations, mostly for the better. But the conflicts were real, especially over the war. People got hurt, both physically and emotionally. There were also some difficult personal moments, as when Kalish and I received bullets in the mail.
WK: Is there something distinctive about the department's approach or methodology or ethos regarding philosophy and philosophical research?
DK
: When I was a student, the faculty tended to be confined to one of the four areas: history; value theory; mind and metaphysics; and logic and philosophy of science. Those pigeon-holes are gone. There are still some people who identify as historians, but all of the "historians" are people who have an interest in some special part of contemporary philosophy. Calvin Normore is a perfect example; he's a medieval specialist, but he teaches all kinds of current material. John Carriero teaches modern philosophy, but he also does all kinds of contemporary philosophy. Now we have Adam Crager, who is an Aristotle scholar and is translating Arabic manuscripts, but he teaches a high-powered logic course. Also, almost all of the people who are doing contemporary kinds of philosophy have some historical interest. I find myself now teaching courses on Frege and Russell and other people of the 19th and mid-20th century. The interweaving of the history of philosophy and the breakdown of pigeonholes are things I think of as characteristic of our department.
WK: Your work has been very influential. Of which among your philosophical contributions are you most proud? Or, most pleased with?
DK
: Do you first want to ask me which of my two children I prefer? That's a hard question. I like different papers for different reasons. Although many of my papers have been reprinted or translated, one that hasn't been, but actually is one of my favorites, is a paper called "Bob and Carol and Ted and Alice." It's serious and fanciful at the same time. And that makes me fond of it. It's my paper that's least read, and never translated. But I like it a lot. One of the things that I'm doing now is picking papers to appear in a collection. I'm trying to think, what should I publish? My tentative title for the first volume, "Demonstratives and Other Essays," indicates that the paper that has been the most influential is "Demonstratives." It's partly from the Russellian ideas in it, but mostly from the way it conceptualizes the role of a context of utterance. And then it develops a formal system, a logic! "Quantifying In" contains some ideas I still like. "Opacity" is also very fanciful. I like that paper quite a bit, but it's too hard to read. And I'm still intrigued with ideas from my 2012 paper on Donnellan.
WK: What's the difference between doing philosophy in print versus doing philosophy in-person? Do you prefer one?
DK
: One is truly a pleasure, and one is truly a pain. That's the difference. I don't like to publish. I write, but there is very little I have written that I have been pleased with except for "Bob and Carol and Ted and Alice." That was written to be published. "Demonstratives" has these weird remarks at the end that are echoes from Frege about Julius Caesar being a number. It's plainly unfinished. My publication list is quite short. I love to engage in philosophical discussion. I love doing philosophy, but sending a piece of philosophical writing off to the publisher is not something I like so much.
WK: I'd like to read you your entry from Daniel Dennett's Philosophical Lexicon and get your reaction: kaplan, n. Ecclesiastical spokesman appointed by the APA to deliver a lengthy impromptu benediction after every paper at a recognized colloquium.
DK
: Cruel, but accurate! I haven't gone to an APA in a while. The last one I went to was in San Diego when Terry Parsons was chair of the APA. I guess I did deliver what might be called an impromptu benediction at the talks that I attended. There are some lessons that one's character does not allow one to learn. Renée says, "Keep it short and listen. Don't talk."
WK: You were colleagues with Rogers Albritton. He is well-known for being extremely philosophically influential, although he published little. What was it like to know Albritton? What was his approach to philosophy?
DK
: I don't know if he had an approach to philosophy. You could talk to him about any non-technical philosophical topic. He was a philosophical empath. With a few quick questions, he could plug into what you were thinking about and start talking about it in a clarifying way. A way filled with a kind of philosophical common sense. It was extraordinarily enlightening. He had a vast knowledge of contemporary philosophy and the history of philosophy. Classical philosophy was one of his special subjects. His out of the box thinking was just amazing. He was a wonderfully engaging person, sophisticated and charming, with a mordant wit. And he just loved to talk. My kind of guy! An extraordinary person.
WK: You're quite committed to undergraduate teaching. What is your approach to philosophical pedagogy?
DK
: Extremely old-fashioned and out of style. I don't use PowerPoints. I don't put an outline on the board at the beginning of the lecture showing what I'm going to talk about, because I don't know where my lecture is going to take us—the students and me—that day. I know where I'm going to start, but I'm watching the students and trying to repeat from a different angle if the faces don't light up. I usually know a fair amount about the subject so I have resources to go in different directions when I think a lecture isn't working. And, with the help of student questions or comments, I often come upon new ways of thinking about the topic. So my undergraduate teaching is impromptu. The place that my teaching is the least impromptu is in the first-year graduate seminar, where, as you know, there is a vast amount of material we have to plow through in the ten weeks. I now do a three-hour prep for the student reporters for every one of the sessions because there is so much to cover that we can only hit a few main points. I feel I know what the main points are. But the relentless forced march through so much material is the opposite of my natural style of teaching. I like doing it because I like the students so much and because I learn from seeing the materials through their eyes. In the undergraduate classes, I think about the material, and I think about what I want to talk about. I'm a very tangential and still rather undisciplined person. Thank goodness I have tenure. I teach classes over and over on the same readings (classics in the field), but the classes are not at all the same from term to term. I go in different directions. It's old-fashioned in the
sense that I don't have any notes, and it's a lecture. The only technology that I use is to record the lecture and put them online so students can listen to them.
I LOVE EVERY THING ABOUT THE UNIVERSITY. THERE COULDN' T HAVE BEEN A BETTER PLACE FOR ME TO HAVE BEEN THROUGHOUT MY LIFE SO FAR AND ON INTO THE FUTURE.
– DAVID KAPLAN
WK: Anything to add?
DK
: I have had a very interesting and enjoyable academic life so far. I never want it to end. The campus is quite beautiful. There are all these wonderful young people to be around that are so inspiring, and charming—a pleasure to interact with. They have provocative questions. Things that I've never thought about before. I've been a teacher, a researcher, and an administrator, and I've traveled the world lecturing and teaching at many of our greatest universities. I very much admire my colleagues here and enjoy interacting with them. I can't imagine a better place for someone like myself to be or a better group of colleagues to have. They are all brilliant and interesting. We have a very impressive faculty. I love everything about the university. There couldn't have been a better place for me to have been throughout my life so far and on into the future. I'm a very happy camper at UCLA.