Kim Johnston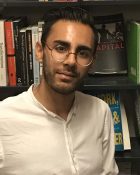 John Abughattas
Kim Johnston is a sixth-year Ph.D. student in the UCLA Department of Philosophy. Her research focuses on reasoning. She was the recipient of the Charles E. and Sue K. Young Award in 2018 for distinguished academic performance and service to the university and community. John Abughattas is a philosophy major interested in moral and political philosophy.
JA: When and how did you first become interested in philosophy?
KJ
: I never really knew what philosophy was until after I started taking a philosophy class. I had a hole in my schedule and I was looking at some classes that could fill that spot, and one was called "The Meaning of Life," and you know, why wouldn't I sign up for a class called "The Meaning of Life?" I was instantly hooked because it reminded me of math in some ways (I was a math major in undergrad) but it was sort of more complicated and weird, which I liked.
JA: I can relate to that. The first time I took a philosophy class is because I was going to be a science major, but the chemistry class I wanted was full. I thought "I'll just take this philosophy GE," and then I realized I can't get enough of this. Why did you decide to  study at UCLA in particular?
KJ
: I instantly felt at home  here. I felt like the conversations I had with grad students and professors were really great and the whole feeling of the department made me think that I would fit in and do well here.
There's a lot of opportunities for cohorts of grad students to come together and talk with one another in a really collaborative, open way.
JA: What do you like about being at UCLA now and what is unique about department culture compared to other departments you've been in or talked to people in?
KJ
: I think my favorite thing about the environment here is how easygoing and collaborative things are. In this department, we have a lot of opportunities to work with each other. For example, professors go to other professors' seminars. That's a thing that sometimes doesn't happen as much in other departments. There's a lot of opportunities for cohorts of grad students to come together and talk with one another in a really collaborative, open way.
I also really like how seriously the department here takes teaching. I've been really impressed with the conversations I've had with other grad students and professors, and just in general, how seriously education is taken and how much people think about it. I also really enjoy how seriously people take inclusivity issues here. Other departments aren't necessarily always as open about it, or there's less of a departmental conversation around a lot of these issues. But here I've received no pushback from my constantly complaining about all sorts of things.
JA: One of the things I'd heard about big public universities is they don't care about teaching. But my experience at UCLA has been the complete opposite. It seems that all the professors and the T A's I've had are very invested in making sure I'm learning philosophy well, so from my perspective that's a thing I appreciate about the department also. Would you mind telling us a bit about the research projects you're working on right now?
KJ
: The thing I've been most interested in throughout the time I've been doing philosophy research is reasoning. I want to know how people reason about things, and the particular thing I'm thinking about now is how people handle contradictions. I think that if we press on cases where it looks like it might be rational to believe a contradiction, you get out a lot of interesting things about how reasoning works.
f
m interested in questions like: if there are cases where it's justified to believe a contradiction, why is that ? If it's not always a good idea to believe a contradiction, how exactly are we locating the badness of the  contradiction? It's helpful to think about  this sort of question in relation to the  question, 'what does logic have to do with reasoning?' There's a sense in which thinking about what consistency has to do with reasoning and what logic has to do with reasoning are kind of the same question. Thinking about these cases might help us rethink the relationship between those things.
JA: Are there any books or articles in your research area that you would recommend to a non-specialist?
KJ
: In general, Graham Priest's articles are pretty accessible and he's on about contradictions just as I am, although he's arguing more specifically about changing logic. "Contradiction, Belief, and Rationality" is a nice accessible paper by Priest.
JA: Is there any advice you would have for undergraduates majoring in philosophy?
KJ
: Take your TAs and your professors up on their offers to meet with you about your papers. One of the best things you can do while you're working on your degree is really hone your writing skills. It's something that I wish I  had done more of, and a lot of people in this department are really great at helping with writing. When your TA says, "If anyone wants to talk about your papers, come to office hours," go do it because it will be worth your time.
JA: Is there a class that you taught here that has stuck out to you as particularly memorable or enjoyable to teach?
KJ
: Philosophy 21 "Skepticism and Rationality" has a special place in my heart because  the  way  that  Andrew  Hsu,  a longtime lecturer in the department, teaches that class by going through arguments. It is very in line with the way that I like to teach. And I really enjoyed  T A-ing that class,  partially because of that, and also because my sections had a nice mix of science and humanities majors, which made for a very, very fun conversation.
JA: What is MAP? For all the listeners at home.
KJ
: MAP stands for Minorities and Philosophy. The idea of the group is pretty broad and simple which is that we are working on and talking about issues that underrepresented people in philosophy face. In practice, the group has largely focused on pedagogy [and] departmental climate. Some specific projects we have are that we run a conference. We've run talks. We've had joint events with Philosophy Club for the undergraduates about job market stuff, inclusivity stuff, and just general outreach and socializing. We have an advising program where students can contact the Advising Coordinator. You did once, right? The advising program? Sorry, you're being interviewed now.
JA: ah, I met with a current second-year graduate student once and she was able to help me figure out some schools to look out for when I apply to grad school.
KJ
: That's one of the things we do. And we work on issues about the curriculum, generally-working on making syllabi more inclusive, thinking of what sorts of classes we offer, thinking what sort of classes we should require of students.
JA: What do you think is the benefit of more diversity in philosophy? Or, to put it in a different way: What do you think the discipline of philosophy misses out on by lacking diversity?
KJ
: Well, there's a sense in which I want to sort of reject the way you put the question. First of all, I think that 'diversity'­ that word-has the air of"Oh, we're being diverse if we just sort of check boxes. We have a few women, we have some people of color and we're done." Whereas, I think what's more important for the discipline is to actually be welcoming of people of different backgrounds.
What does philosophy  miss out on by not being more inclusive? It misses out on all of the people who come to a philosophy class feeling they don't belong and say, 'Tm going to the gender studies department." And I've actually heard this story from multiple people who feel like, "Oh, I can't really study what I want to study here. So, I'm going to go to the English department, or gender studies, or education." And, you know, we want lots of smart people working in philosophy.
Another related problem is that we sort of don't talk to other disciplines. I, as someone who is working on reasoning, should be interested in other people's work on reasoning. But because of the way many departments are set up, you aren't told to look in a lot of places that may be interesting. A lot of nonwestern philosophies are just not dealt with. A lot of stuff that's really interesting, like critical race theory for example, is just not as available to you. And that means you're really missing out on a lot of interesting ideas, right?